Service
By connecting to the BBIX IX connection point, it enables you to exchange Internet traffic directly with other customers who are connected to the point.
In addition, by connecting to the nearest IX connection points, you can take advantage of higher-quality communications with less latency.
BBIX contributes to reducing the traffic exchange cost of customers by aiming to slash Japan's said to be, "the most expensive" IX connection charges in the world, and providing a global competitive pricing.
BBIX has been adopted by major domestic and overseas ISP, OTT and CATV operators, and offers an environment where traffic can be exchanged directly with each other.
In addition to IPv4 connectivity, IPv6 is supported. IPv6 only and IPv4 / IPv6 dual stack connectivity is also supported as a standard service.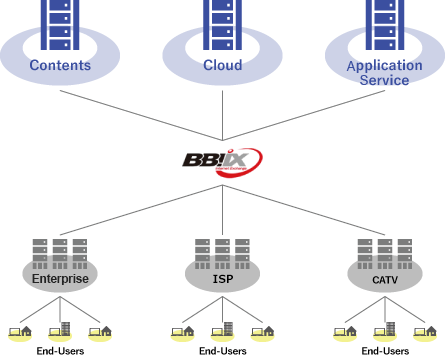 Additional services
BBIX Transit Service
This service provides transit connections on the same port as the IX service for customers who use BBIX's IX service. See more
Managed Peering Router
This service supports cutomer's Internet connection operation by installing, operating, and maintaining routers.
See more
BBIX Multi-Cloud Service
This service enables direct and private access with multiple cloud services over the same IX port. See more
Flow Analysis Service
This service extracts and analyzes the flow data sent from the customer's router to BBIX, and provides it as a traffic report.
Route Server
By Peering with the route server, you are virtually peering with other customers who are connected to the route server, and thus you are able to exchange routes with multiple operators without negotiating individually.
By connecting to the route server and establishing peering, the user can receive the route of the carrier using the route server and/or publicize the user's own route.
Private VLAN option
This optional service enables multiple logical networks to be superimposed on the same port.
Smart IX
This optional service enables customers to exchange internet traffic with other customers connected to remote and/or overseas BBIX zone sites using BBIX's wide area L2 networks.
BBIX Connection Points
Region
Country
Zone
BBIX Sites
Ports
Smart IX
BBIX Transit Service
Sites
Data Center
1G Ethernet
10G Ethernet
100G Ethernet
Asia
Japan
Tokyo
BBIX Tokyo No.1
NTT DATA Otemachi
✓
✓
✓
✓
✓
BBIX Tokyo No.2
ComSpace I
✓
✓
✓
✓
✓
BBIX Tokyo No.3
Equinix TY2
✓
✓
✓
✓
✓
BBIX Tokyo No.4
Equinix TY4
✓
✓
✓
✓
✓
BBIX Tokyo No.5
AT TOKYO CC1
✓
✓
✓
✓
✓
BBIX Tokyo No.6
SoftBank Maruyama CLS
-
✓
✓
✓
✓
BBIX Tokyo No.7
NTT Communications Nexcenter
-
✓
✓
-
✓
BBIX Tokyo No.8
Colt DCS Tokyo Shiohama DC
-
✓
✓
-
✓
BBIX Tokyo No.9
Colt DCS Inzai 1 DC
-
✓
✓
-
✓
BBIX Tokyo No.10
SCSK netXDC Chiba Center
✓
✓
✓
-
✓
BBIX Sendai
TOHKnet Sendai Central Data Center
✓
✓
✓
-
✓
BBIX Okinawa
FRT Data Center (iDC)
✓
✓
-
-
✓
Osaka
BBIX Osaka No.1
NTT DATA Dojima
✓
✓
✓
-
✓
BBIX Osaka No.2
Equinix OS1
-
✓
✓
-
✓
BBIX Osaka No.3
NTT SmartConnect Dojima
-
✓
✓
-
✓
BBIX Fukuoka
QTnet Fukuoka No.3
Data Center
-
✓
✓
-
✓
Hong Kong
Hong Kong
BBIX Hong Kong No.1
Mega-i
✓
✓
✓
✓
-
BBIX Hong Kong No.2
Equinix HK1
✓
✓
-
-
-
Singapore
Singapore
BBIX Singapore
Equinix SG1
✓
✓
✓
✓
-
Thailand
Thailand
BBIX Bangkok
True IDC North Muang Thong
-
✓
✓
-
-
N. America
United States
LA
BBIX LA
CoreSite LA1
✓
✓
-
✓
-
Chicago
BBIX Chicago
Equinix CH1
✓
✓
-
✓
-
Dallas
BBIX Dallas
Equinix DA6
✓
✓
-
✓
-
Miami
BBIX Miami
Equinix MI1
✓
✓
-
✓
-
Europe
Netherlands
Amsterdam
BBIX Amsterdam
Interxion AMS9
✓
✓
-
✓
-
United Kingdom
London
BBIX London
Telehouse Dockland North2
✓
✓
-
✓
-
France
Marseille
BBIX Marseille
Interxion MRS2
✓
✓
-
✓
-
Participants List
Pricing
For more information, please feel free to contact us.
Implementation Flow

For more information, please feel free to contact us.
+81-3-6889-9257