What is RPX?
"Roaming Peering eXchange (RPX)" is the only mobile roaming exchange in the market today which provides direct Layer 2 Peering between Mobile Network Operators with extremely low latency and cost in comparison to GRX.
RPX is a simple Peering Platform for Data Roaming with its concept brought from "Internet eXchange (IX)", the core business of BBIX.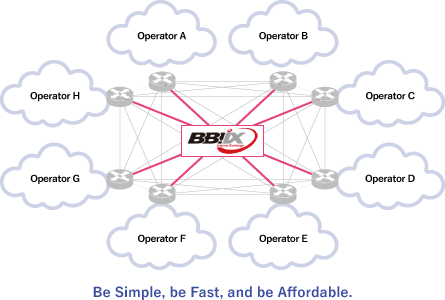 Why RPX?
Improve your Data Roaming Quality
RPX's Layer 2 architecture drives customer MNOs to exchange data roaming traffic faster than ever by bypassing GRX.
It enables sending and receiving traffics directly between the roaming partner MNOs with the minimized latency, which brings your end-users to the brilliant data roaming experience.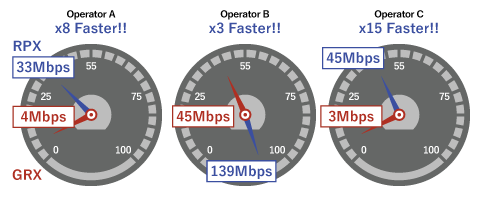 Reduce your Cost
Aren't you overpaying for GRX? Offloading your GRX traffic to RPX would reduce your cost drastically, enabled by the simple flat-rated pricings per physical ethernet port interface.
Just compare the cost, and you will see the difference.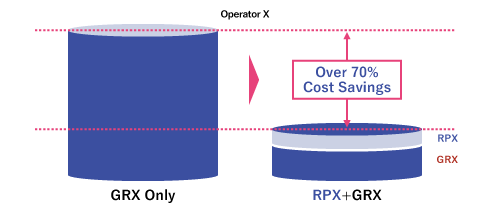 Where to connect?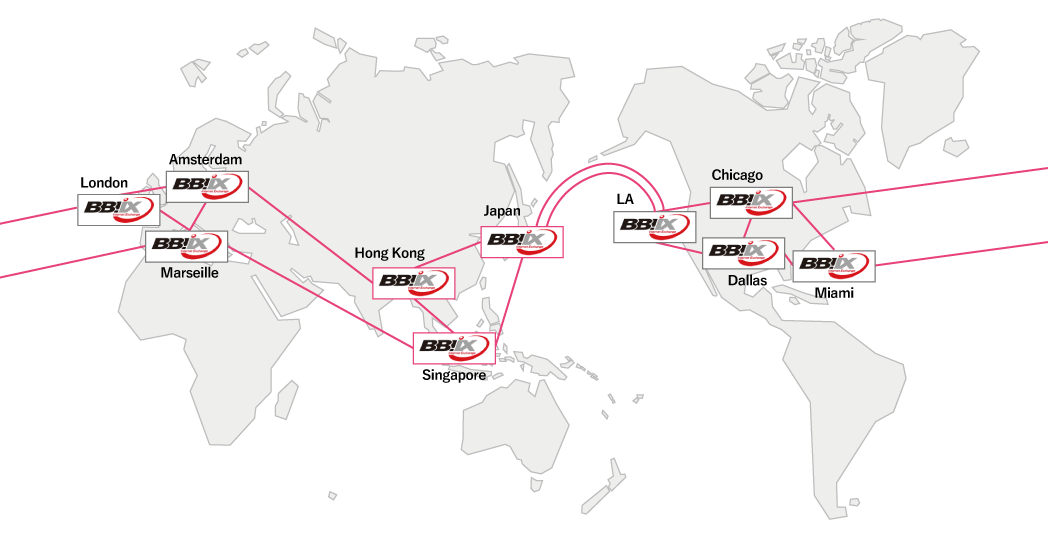 RPX Connection Points
Region
Country
Zone
BBIX Sites
Ports
Sites
Data Center
1G Ethernet
10G Ethernet
100G Ethernet
Asia
Japan
Tokyo
BBIX Tokyo No.1
NTT DATA Otemachi
✓
✓
✓
BBIX Tokyo No.2
Digital Edge TYO2 (ComSpace 1)
✓
✓
✓
BBIX Tokyo No.3
Equinix TY2
✓
✓
✓
BBIX Tokyo No.4
Equinix TY4
✓
✓
✓
BBIX Tokyo No.5
AT TOKYO CC1
✓
✓
✓
BBIX Tokyo No.6
SoftBank Maruyama CLS
-
✓
✓
Hong Kong
Hong Kong
BBIX Hong Kong No.1
Mega-i
✓
✓
✓
Singapore
Singapore
BBIX Singapore
Equinix SG1
✓
✓
✓
North America
United States
US-West
BBIX LA
CoreSite LA1
✓
✓
-
Chicago
BBIX Chicago
Equinix CH1
✓
✓
-
Dallas
BBIX Dallas
Equinix DA6
✓
✓
-
Miami
BBIX Miami
Equinix MI1
✓
✓
-
Europe
Netherlands
Amsterdam
BBIX Amsterdam
Interxion AMS9
✓
✓
-
United Kingdom
London
BBIX London
Telehouse Dockland North2
✓
✓
-
France
Marseille
BBIX Marseille
Interxion MRS2
✓
✓
-
Pricing
For more information, please feel free to contact us.
For more information, please feel free to contact us.
Inquiry Form