BBIX to Launch New Open Connectivity eXchange Connection Site at ITOCHU Techno-Solutions Corporation's "Kobe Computer Center"
BBIX to Launch New Open Connectivity eXchange Connection Site at ITOCHU Techno-Solutions Corporation's "Kobe Computer Center"
BBIX, Inc. ("BBIX"), a subsidiary of SoftBank Corp. that conducts an Internet eXchange (IX) business, will open cloud-based network service Open Connectivity eXchange ("OCX")'s new connection site at Kobe Computer Center ("KCC," Kita-ku, Kobe City) on July 1st, 2023. KCC is operated by ITOCHU Techno-Solutions Corporation ("ITOCHU Techno-Solutions").
OCX is the cloud-based network service provided on BBIX's IX platform. OCX provides on-demand, highly secure, low-latency, scalable connectivity services to a variety of cloud services and data centers used by customers.
As a platform that allows customers to grow their businesses, ITOCHU Techno-Solutions' data center service provides a variety of choices for customers to arrange connections, for example, at their business bases, in remote work environments and on cloud services. ITOCHU Techno-Solutions' KCC is a data center with superior business continuity backed by reliable facilities and operational experience.
This new launch of an OCX connection site at ITOCHU Techno-Solutions' KCC realizes a platform that greatly contributes to system security and flexibility, and it allows customers easier access to a secure, high-quality closed connection environment.
BBIX, together with ITOCHU Techno-Solutions, will work to expand its services to help customers accelerate DX (Digital Transformation), create new businesses, and grow their existing businesses, thereby contributing to the realization of an affluent society full of dreams.
■Service features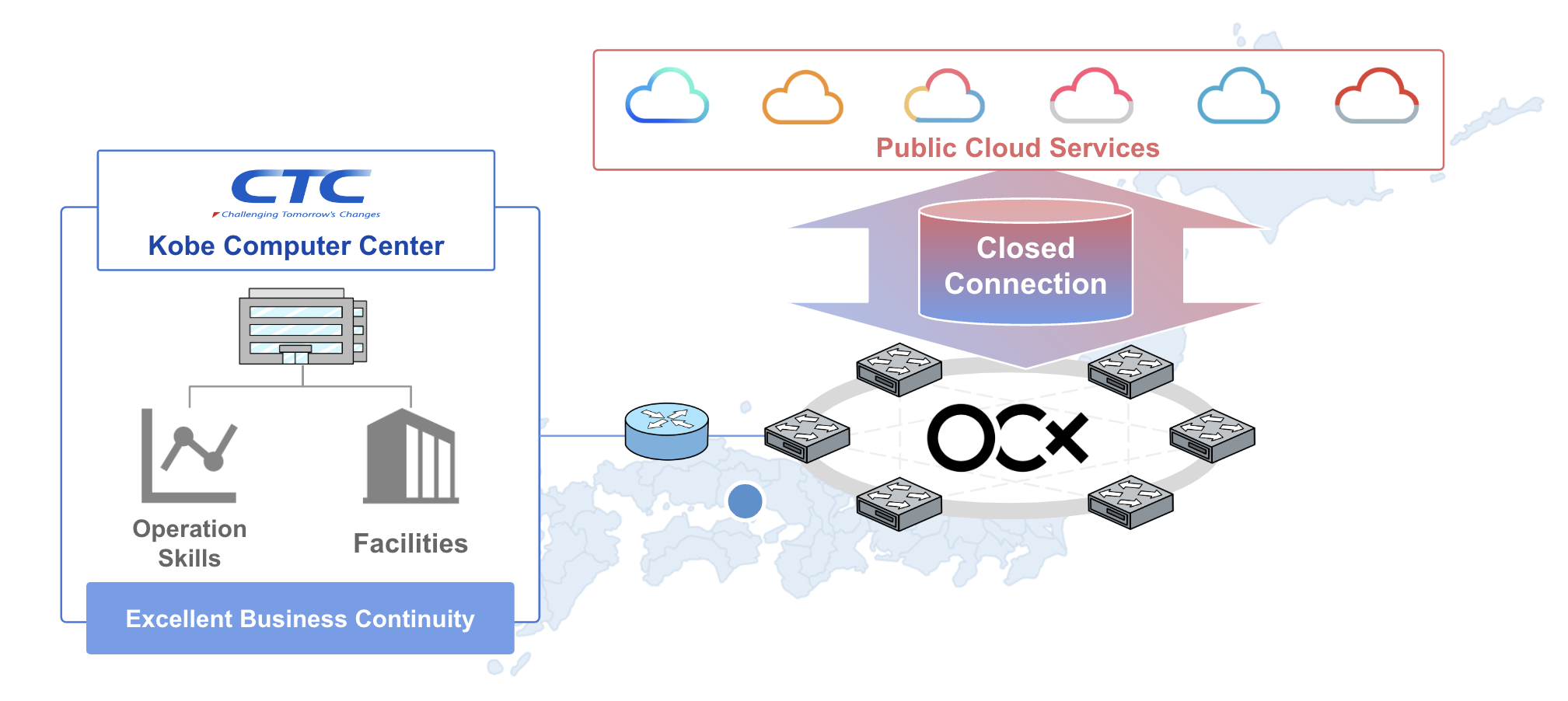 ■Executive comments
Tomoyuki Higashi, General Manager, Entrusted Cloud Engineering Division, ITOCHU Techno-Solutions Corporation
"We sincerely welcome the new launch of OCX connection site at KCC. We are promoting 'OneCUVIC,' a hybrid cloud support service that integrally manages customers' increasingly complex and sophisticated hybrid cloud environments, reducing operational burdens and improving security measures. In order to promote hybrid cloud for increasing profitability, it is required that high-bandwidth, high-quality and secure networks which connect a variety of cloud platforms. We expect that the launch of the new connection site will further strengthen our activities in this area. We will continue to contribute to our customers' DX promotion and new business creation in collaboration with BBIX."
Michikazu Fukuchi, Executive Vice President, Board Director and COO, BBIX, Inc.
"We are excited to be able to offer BBIX's OCX service through this partnership with ITOCHU Techno-Solutions in the data center connectivity field. By launching this site, we will have the 2nd OCX connection site in west Japan and we will strengthen linkage between ITOCHU Techno-Solutions' high-performance and highly reliable data center services with OCX."
■ About BBIX
Company Name: BBIX, Inc.
URL: https://www.bbix.net/en/
Headquarters: 1-9-10 Roppongi, Minato-ku, Tokyo
Representative: Hidetoshi Ikeda, President & CEO
Date of establishment: June 13, 2003
Capital: 100 million yen
Ownership: 100% owned by SoftBank Corp.
Business: Telecommunications operator under Japan's Telecommunications Business Act; leasing, maintenance & management of telecommunications equipment; development, sales, maintenance & management of computer hardware/software
● The company names and service names described in this press release are registered trademarks or trademarks of the respective companies.
● The content, products, specifications, contact information and other information contained in this press release are as of the date of announcement. This information is subject to change without notice.
BBIX, Inc.