Press Releases
2022/10/17
BBIX Signs Business Partnership Agreement with SCSK in Data Center Connectivity Field
October 17, 2022
BBIX, Inc.
BBIX Signs Business Partnership Agreement with SCSK in Data Center Connectivity Field
-SCSK's netXDC Sanda Data Center to be BBIX's first Open Connectivity eXchange ("OCX") connection point in western Japan-
BBIX, Inc. ("BBIX"), a subsidiary of SoftBank Corp. that operates an Internet Exchange (IX) business, has signed a business partnership agreement with SCSK Corporation ("SCSK") in the field of data center connectivity, and on November 1, 2022, BBIX will add SCSK's netXDC Sanda Data Center (Sanda, Hyogo) as its first Open Connectivity eXchange ("OCX") connection point in western Japan.
OCX is a cloud-based network service provided on BBIX's IX platform. OCX provides on-demand, highly secure, low latency and scalable connectivity services to a variety of cloud services and data centers used by customers via a dedicated customer portal. SCSK provides premium connectivity services from its highly robust and scalable netXDC data centers. By adding SCSK's netXDC Sanda Data Center as a new OCX connection point, customers will be able to connect to OCX from SCSK's data center and easily enjoy a secure, high-quality, closed network environment.
Together with their customers, partners and local communities, BBIX and SCSK will work to create a better society and future by applying their IT knowledge and experience, and continue to expand their services to help accelerate DX (Digital Transformation) and business growth.
■Partnership Model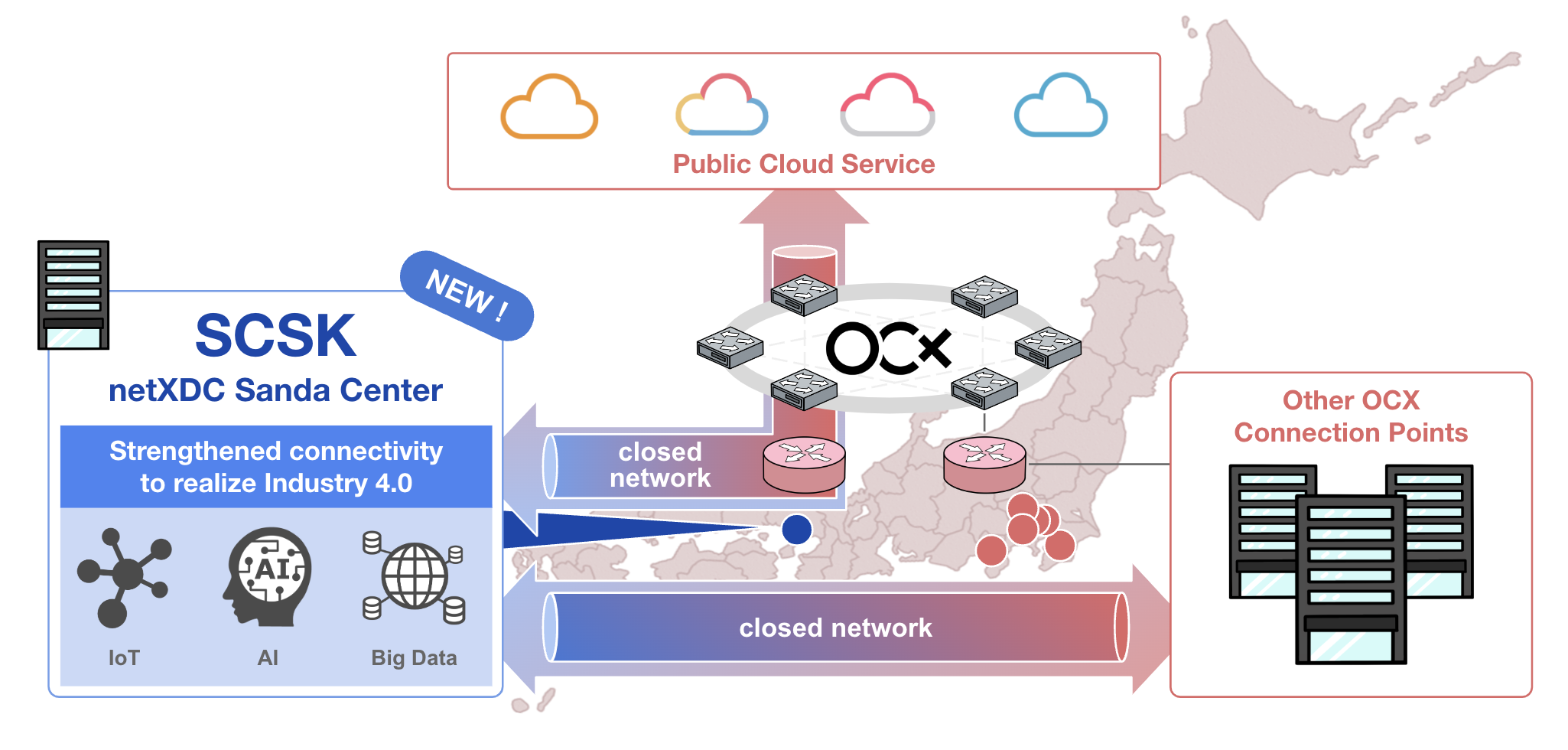 ■Comments on the Partnership Agreement
Michikazu Fukuchi, Executive Vice President and COO of BBIX, Inc.
"We are excited to be able to provide BBIX's OCX service with SCSK, a leading company in the ICT industry, through this partnership in the data center field. By combining SCSK's high-performance and trusted services with OCX, we believe we will be able to realize a platform that can contribute to more secure and scalable systems for our customers. BBIX will continue to contribute to accelerating our customers' DX and business growth."
Kouji Ueda, General Manager, Nishinihon IT Management Business Div. Solution Business Group Corporate Officer of SCSK Corporation
"We are very happy about BBIX launching its OCX connection point at netXDC Sanda Data Center . SCSK is currently developing smart factory solutions, optimized by the use of IoT, AI and Big Data, to help customers achieve higher productivity, cost reductions and better quality in the manufacturing industry. Strengthening connectivity at sites and factories with the use of OCX, we will strive to provide value-added services, such as 'workstyle reforms at sites and factories' and 'application of Big Data,' to realize Industry 4.0."
■About BBIX
Company Name: BBIX, Inc.
URL:
https://www.bbix.net/en/
Headquarters: 1-9-10 Roppongi, Minato-ku, Tokyo
Representative: Hidetoshi Ikeda, President & CEO
Date of establishment: June 13, 2003
Capital: 100 million yen
Ownership: 100% owned by SoftBank Corp.
Business: Telecommunications operator under Japan's Telecommunications Business Act; leasing, maintenance & management of telecommunications equipment; development, sales, maintenance & management of computer hardware/software
● The company names and service names described in this press release are registered trademarks or trademarks of the respective companies.
● The content, products, specifications, contact information, and other information in this press release are current as of the date of the announcement. Such information is subject to change without notice.