Inauguration of Asia Smart IX Initiative
July 18, 2014
BBIX, Inc.
Announcement re: Inauguration of Asia Smart IX Initiative
The Group of Mobile Internet Players in Asia will Promote High-quality and Low-cost Interconnectivity
BBIX, Inc. (Head office: Tokyo, Japan; President & CEO: Junichi Miyakawa), a SoftBank Group company that provides Internet Exchange (IX) services, announces the inauguration of the Asia Smart IX Initiative ("the Initiative") on July 18, 2014. The Initiative comprises BBIX and major mobile network and Internet operators in Asia that jointly aim to develop Asia's mobile Internet as well as construct and operate high-quality and low-cost interconnection environments.
■ Purpose of Asia Smart IX Initiative
Using the Internet Exchange (IX) service that is currently provided by BBIX as a base, the Initiative aims to create full-fledged peering hubs in the Asian region by realizing ideal interoperability for Internet traffic switching in Asia through the linking of three IX services operated by BBIX in Tokyo and those of the newly established BBIX Singapore Pte. Ltd. and BBIX Hong Kong Pte. Limited*1. The Initiative will also provide practical advice and conduct research activities. Through these activities, the Initiative aims to develop the Internet business in Asia with a primary focus on the mobile Internet. BBIX will act as secretariat for the Initiative.
*1 BBIX Singapore Pte. Ltd. and BBIX Hong Kong Pte. Limited are wholly-owned subsidiaries of BBIX, Inc.
■ Background
With the spread of LTE, smartphones, M2M and other technologies, mobile Internet traffic is rapidly increasing in Asia. According to Cisco Mobile VNI 2014, in the 5 years following 2013, mobile Internet traffic in Asia is expected to increase by 67% on an average annual basis*2. Over half of all Asian Internet bandwidth is concentrated in three metro areas: Singapore, Hong Kong, and Tokyo*3.
with approximately half of traffic switching being conducted in the three cities of Tokyo, Singapore and Hong Kong through other countries*3. This Initiative was inaugurated to respond to this rapid Internet traffic expansion by promoting ideal interoperability using IXs based in Tokyo, Singapore and Hong Kong and to lead traffic exchange optimization in the Asia region.
*2 Source: Cisco Visual Networking Index Global Mobile Data Traffic Forecast, 2013-2018
http://www.cisco.com/c/en/us/solutions/collateral/service-provider/visual-networking-index-vni/white_paper_c11-520862.html
*3 Source: TeleGeography's Global Internet Geography
http://www.telegeography.com/research-services/global-internet-geography/index.html
■ Organization and activities
Executive Committee: The Executive Committee shall be tasked to perform as an executive organ of the Advisory Board for certain designated matters.
Advisory Board: The Advisory Board shall have the authority and power to make decisions for the Smart IX User's Association.
Working Groups: Study groups to discuss about the specific topics.
Users Association: The organization consisting of all Smart IX users.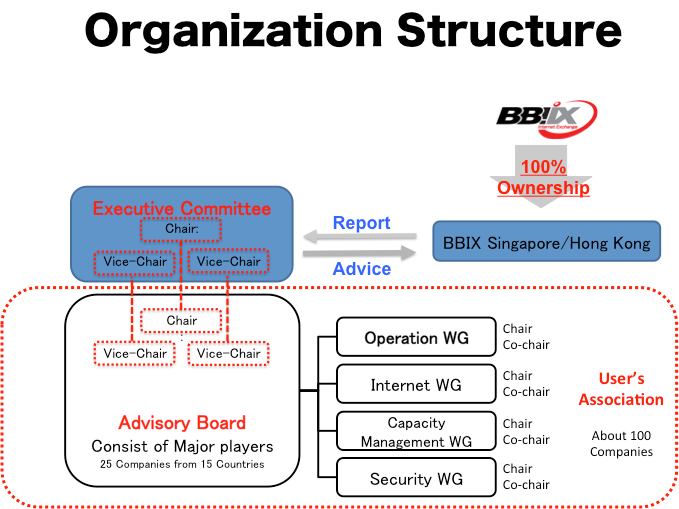 ■ Prospective Participants (that have given permission for listing, in alphabetical order)
| | |
| --- | --- |
| Company Name | Country |
| Advanced Info Service PLC | Thailand |
| Celcom Axiata Berhad | Malaysia |
| Chunghwa Telecom Mobile Business Group | Taiwan |
| SK Telink Co., Ltd. | Korea |
| SoftBank Mobile Corp. | Japan |
| Taiwan Mobile Co., Ltd. | Taiwan |
| True International Gateway Co.,Ltd. | Thailand |
BBIX will work to provide superior Internet environments that help contribute to the growth of Internet services.
■ About BBIX
Company name: BBIX, Inc.
URL: http://www.bbix.net/en/
Head office: 1-9-1 Higashi Shimbashi, Minato-ku, Tokyo, Japan
Representative: Junichi Miyakawa, President & CEO
Date of est.: June 13, 2003
Capital: 100 million yen
Ownership: 100% owned by SoftBank BB Corp.
Business: Telecommunications operator under Japan's Telecommunications Business Act; leasing, maintenance & management of telecommunications equipment; development, sales, maintenance & management of computer hardware/software.
● Service names listed in this press release are trademarks or registered trademarks of their respective companies
Inquiries:
E-mail: pr@bbix.net